Salesforce
Published :

12/15/2021 12:38:00 PM .Dec.15

Authors :

zeinab khodadadi

Last update :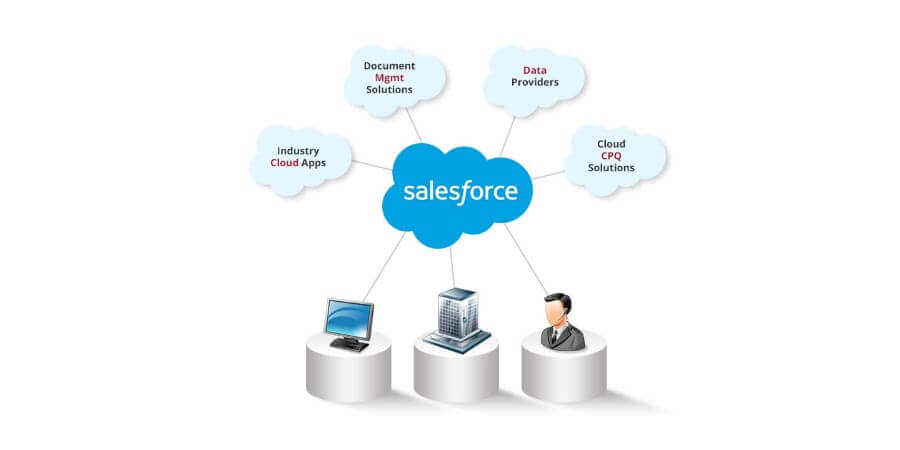 CRM is a contraction of customer relationship management. It is software or technology used in businesses to be in touch with customers. Today, using CRM as a tool or system for managing old, new, and future customers, decreasing costs, and increasing profitability. A perfect CRM system combines all the data sources of an organization that quickly provides the information required by the customers; CRM systems could be run in different types of business (small/big). Usually, an organization has different sections that have access to customers' information indirectly or directly. A CRM system gathers all this information together, processes them, and makes them accessible in all sections.
What is Salesforce?
In simple words, Salesforce is a software to bring users for sales, services, and market together with companies and allows commerce to provide customers buying experiences in both B2B and B2C.
Salesforce is a cloud, so it's accessible for users with the internet at any time and place; users can form their CRM application.
The platform can identify excellence and advise actions and next steps until supply.
Salesforce cloud-based services have several classifications like
Sales Cloud

companies can expand productivity and streamline sales for better ROI. Its origin for sales, markets, and customer support. It allows commerce to provide customers buying experiences in both business to business (B2B) and business to customer (B2C).

Commerce Cloud

This e-commerce, reviving your organization with salesforce cloud commerce, which delivers an organized experience through multiple platforms. A great feature is the road map, which automates tasks such as tracking orders and resetting passwords to schedule customer journeys and gives you plenty of time with automated trading tasks to focus on sales and conversations.

The commerce cloud empowers you to create intelligence and unified buying experiences from mobile, store, web, and social media channels. It allows you to expand your business more quickly, launch it more swiftly, and reach out to more clients, as well as tie your commerce to CRM data and business tasks.

Service Cloud

salesforce service cloud is a CRM platform that supports you and suggests all the tools you might need for better management. This allows you to automate the service system, simplify workflows, and listen and reply to customers through different social platforms integrated with Salesforce, enabling the social team to collect a comprehensive picture of the customer to inform answers.

Cloud service has smart aspects that support Artificial Intelligence and also help to increase enjoyment and loyalty.

Salesforce marketing cloud is a supporter of digital marketing automation and analytics software and services, and it was founded as an email marketing vendor. Digital marketing can be used to provide effective customer support on social platforms.

Email management software keeps mailing lists and schedules and changes email messages based on what recipients read, click or send. It offers consulting and implementation forms services for both B2B and B2C businesses and the development of marketing automation and analytics software and integrated solutions for the customer journey, email, mobile, social media, and online marketing. One of the features of the marketing cloud is customized with artificial intelligence. The new version of the marketing cloud interface has been updated to accommodate advanced API updates from Salesforce.

The marketing cloud integrates sales and services cloud, provides sales teams with inclusive materials and allows Salesforce's social strategies and digital ad campaigns. This cloud will help you to know your customer better.

Analytics Cloud

Salesforce Analytic Cloud is known as wave analytic, secure to provide an interactive platform to access and share business processes.

In particular, salesforce analytic Apps are a kind of business performance that provides information and implements to business users to develop their business. It allows analyzing key sales and service-specific data, which can be monitored from all devices, corrected data, and managed customer data.

Data analytics is on a large scale using computer skills, mathematics, statistics, illustrative techniques, and predictive models to get valuable knowledge from data.

The analytics cloud's function delivers the data analytics by an engine based on the Salesforce platform. Therefore, it offers many benefits to users who can easily explore the data using the built-in dashboard and pre-built apps and interpret and access the data from different internal and external sources.

This platform can support customer problems more quickly, forward the problem to a higher level and update status.

Organizations can use analytics to business data to describe, predict, and improve their business performance.

App Cloud

Salesforce App cloud is an effort of by one the most successful software as a Service companies to consolidate its developers.

According to Salesforce, the app cloud is a collection of enhancements; the main purpose is empowering to quickly create applications running on the Salesforce platform and concentrate on making solutions rather than infrastructure. PaaS has been the promise.

Salesforce App cloud connects the points over its CRM mobile tools and developer platform to deliver a unified PaaS.

App Cloud is a development from Salesforce, an initiative to bring together social, mobile, and cloud platforms for enterprise developers. It has everything you need to create usage applications, noticeably increase customer experience, and enhance interaction with the app or business.

It lets you develop mobile Apps by evaluating customer information, improving customer interaction, performing needed changes, and eliminating hardware compatibility issues.

This cloud enables you to foster collaboration, increase work efficiency, and develop mobile apps for the whole company from HR to Finance. Using the powerful APIs provided in the salesforce app cloud, you can connect and integrate with your database and server-based sources.

IoT Cloud

IoT is defined as a system of interconnected computing devices such as digital machines, cell phones, tablets, and other objects capable of transmitting data across the internet.

People are joining the internet to get information, relevance with other people, and do business all over the world, while objects are also using the internet to connect to the cloud forming an "internet of things."

In other words, businesses can add significant commercial value to any connected IoT device because there is no need for human-to-human or human-to-customer interactions by using it.

IoT devices work with sensors to sense the component faults and problems, either when they approach the end of their life expectancy or whenever a product performance below the standard automatically can report this info to you directly to your CRM system.

Another capability is that devices connected to the internet are fixed to objects such as factory equipment, cars, buildings, and devices, which transfer and receive data over the network, usually responding according to fixed event rules. Furthermore, devices can also send the data assembled to cloud-computing services across the internet, Bluetooth, NFC, and more, which can then be collected and analyzed by businesses to upgrade their services.

community cloud

Community Cloud is an online social and Salesforce SaaS platform, which is created to make touch and communication among an organization's employees, customers, and partners with each other; in turn, these connections enable a strong connection between all sections, share the data and records needed to work with each other, and collaborate to achieve a common target.

With this cloud, your customer data, records, and files can be shared everywhere and on any mobile device.The salesforces, mobile app, or any mobile browser for delivering branded, device responsive collaboration can be accessible to the community everywhere. This organization makes it affordable and can also reduce your data traffic. Allows employees to use this platform for many types of workplace interactions, including troubleshooting, HRM, and help 24/7.

Community cloud software enables your company to create customization solution matching and branded communities for integrated organizational collaboration and efficient business processes.

This platform gives you an overview of who your representatives are, who is more active, and who can also confirm each other based on expertise and skill.

It lets you simplify key organization processes and enhance them across offices and departments. Everyone in your business ecosystem can serve customers more effectively, close the contract faster, and get things done in real-time.

In general, the Salesforce community cloud is a multi-tenant infrastructure highly flexible to any business to create multiple communities easily for whatever use case and demand. It allows various organizations to work together with common computational concerns such as compliance, auditing, or performance.

We decrease the time and energy needed to get things done, increase trust and effectiveness, and return pleasure to collaborations with more transparency. The trusted platform provides the highest security and control over everything from user and client validation to manageable permissions to data access and sharing.

Teams can classify based on events, campaigns, or projects to access relevant information with structure. By synchronizing files in one centralized location, your employees can easily access the appropriate files they need in the context of your core business processes.

Through Chatter, collaboration is powered to foster an innovative workplace where anyone can help with ideas. Workers can work together on projects, find subject-matter professionals, get updates.

collaboration cloud

Salesforce Collaboration Cloud allows team members to work together on documents and other data types, which are saved off-site and out of the company firewall, in real-time and everywhere.

Employees provide an accessible, cost-effective, and scalable toolset for employees to collaborate, communicate and interact with each other. It provides an excellent way for managers to know what is going on in the team. This type of management can be used if you have the right tools.

Users can make any changes to the document every time, even while employees view and work simultaneously. All changes are stored and synced so that each user can see the exact version of the project. At the same time, you can access all the changes in documents and know who made changes to which documents and when. You can share the document offline with USBs and external hard disks.

Nowadays, many companies are developing their applications on the Salesforce platform or are moving to Salesforce.
The Salesforce has some advantages such as
Retrieval customer information

It's comprehensive, so you have all information you need in one suitable place. It offers a holistic way to manage your growing business and gives your company much information before moving toward potential customers.

Account managing

With access to all customer info, your company representatives can manage accounts independently; this gives you the approach you need to communicate with your customers and allows your agent to change their plans to get a better result. You can also create reminders in calendars so you can tell anyone to follow your essential duties with clients, account manager, or supper management.

Time management

With comprehensive customer information, we can organize customer needs by scheduling cause time managing in nurturing a potential lead.

Team collaboration

Salesforce lets you easily connect with other members of your team. The "chatter" feature allows you to talk with individuals or groups, even add different team members to accounts or opportunities, and focus your entire team on what they need to do each day. This process makes it easier for your team to prioritize and schedule their tasks so that you can work with more leads and sales.

Accessibility

Salesforce has an app which you can connect with your business and your team at all hours. In addition, your team can also use it to update accounts and clients despite where they are.
Salesforce cloud-based services included
SaaS (Software as a service)

It's an app accessible over the internet, so it enables users to build an application quickly, controlled by a third-party who keeps databases remote, integration with other apps, perform an automatic update, and pay less for the features your need. Also, sign in and use the software. For example, salesforce.com, which is based on a multi-tenant architecture, means multiple customers share the standard technology and run on the newest release. You can use Salesforce.Com, which has services translated into 16 different languages and many customers and subscribers.

PaaS(platform as a service)

It empowers business users and developers to develop and run their customized applications on the unified ready-to-go platform, so it's a cost-effective and professional model for the application.

IaaS(infrastructure as a service)

It proffers computing source, server installations, storage, network; all data is saved, backed up, and protected. This process helps you reduce hardware costs and provide high-security databases. It has high scalability and speeds up to follow digital strategies. Also, new apps can be tested with an IaaS provider instead of with the testing infrastructure.
Thousands of prefab applications are accessible in the salesforce app exchange, which helps close more sales.