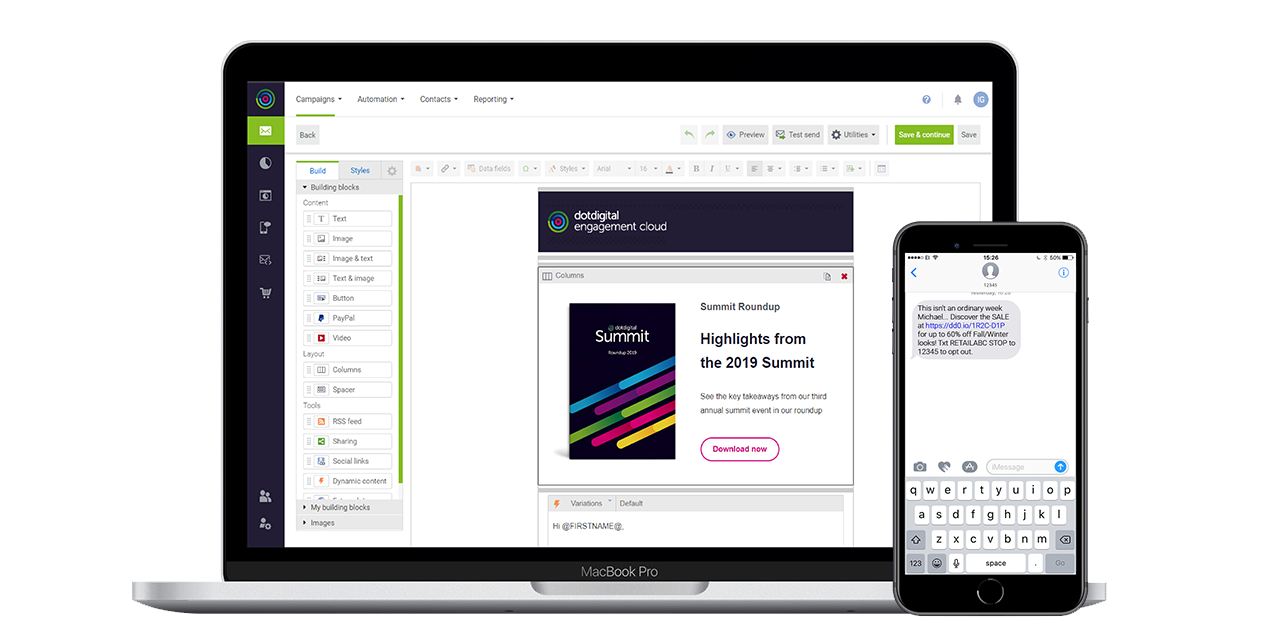 With Dotdigital You can target your customers through the omnichannel campaigns provided by this platform. Get data-driven email marketing, landing pages and forms, triggered campaigns, responsive email templates, push notifications, drag and drop functionalities, and much more by just getting Dotdigital for your brand marketing.
It is a great marketing solution for B2B, B2C, and other marketers such as NFP. This platform has easy functionalities that are importing data, building segments, and finally creating engaging marketing campaigns for interacting with your potential customers on their most likely channels.
Vegarise by implementing a Dotdigital marketing cloud in your system help you reach your marketing goals faster. We, not only aid towards increasing your ROI but also boost your sales revenue by driving more qualified leads through impactful marketing.
What features do your receive after implementing the dotdigital software?
Importing and segmenting the data

With dotdigital, you can connect your data for creating various segments driven from the customer purchases, choices and interests, to CRM insights and demographics.

Create engaging messages

This amazing software helps you get highly relevant content through its drag and drop campaign building tools and that is engaging customers through emails and SMS is now quick and easy.

Automating the campaigns

Customers always seek attention and dotdigital through its customer lifecycle programs helps to keep them connected with your company through welcome emails or abandoned cart campaigns.

Generating reports on the success

With the Dotdgital platform, it is now simplified to have campaign reports and custom dashboards to measure KPIs. You can also have insights on email ROI and RFM.
What do we offer to our customers through Dotdigital implementation?
With the Dotdigital platform, you get new opportunities and various advantages for your business and our team of experts at Vegarise helps to fully optimize every feature of this robust platform.
Nurturing customers through a seamless CRM integration.

Helping the clients by getting all the needful features installed in their system for providing an omnichannel experience for their clients to engage and support them.

Make your business faster and smarter than your competitors by ramping you up in the challenges with the latest AI features.

Try to reach every single touchpoint of the software requirements by harvesting complete data of the customer's journey and experience.

Supporting the marketing team by converting leads into customers by proven, intelligent, and time-saving automation and segmentation so that you can reach the right people at the right time.

With smart data sharing designing, we provide smooth sharing of information throughout the system.

Scaling up your customer development programs by training the staff to fully utilize the various features of the Dotdigtal platform confidently and effortlessly.

We empower your marketing with intelligent features that give a valuable experience to all your customers.