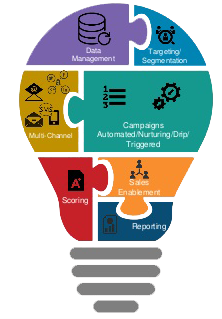 Eloqua provides dynamic services for all your customers through this marketing orchestration. Your leads will have their requirements and preferences examined individually; those leads will be grouped for various marketing campaigns to provide a more customized experience. From your campaign canvas, you can track all of your customers easily and have a proper idea of how successful your strategies are.
How Eloqua will give you the best marketing automation?
This marketing cloud will keep track of the interactions of the leads and their key activities to understand their needs and automatically switch customers to a more suitable campaign. This is a simple technique to use automation to automate your repetitive tasks.
You can get a real-time update from the client's digital footprint to have a clear idea of the overall lead score at any instant. You can also predetermine and automate the interaction of the next lead.
With Marketing Automation (MA), you can manage your prospect list on the tool and keep in touch with them via email to visualize who is more likely to be in business. As the name suggests, by automating and saving labor in marketing and sales activities, which would require enormous person-hours if done manually, we can contribute to increasing the number of business negotiations. Marketing automation can automatically centralize your lead list. Without duplication, you can simultaneously manage the acquired method, the degree of consideration for each prospective customer, the communication history so far, etc. It is also possible to perform scoring and classification by behavior according to purchase accuracy.
With marketing automation, it is also feasible to extract customers with high purchase accuracy and pass them to sales as a promising customer list or cooperate with sales to provide helpful content to customers individually. As a result, you can automatically appeal to and follow customers beneficial to your company. Marketing automation can be effective, especially if you want to manage a wide range of potential customers without devoting human resources.
Issues that marketing automation (MA) can solve
challenges that marketing automation can solve :
Improvement of business efficiency

Reconfirming and optimizing costs

Increased productivity
However, with the assistance of MA tools, it is easy to choose an approach that meets the requirements and interests of prospective customers, and time is not wasted.
How will it help you to execute marketing?
When you get real-time feedback from the clients, you need to make suitable campaigns for them. Eloqua can do wonders there too.
You can create dynamic campaigns according to your leads easily. Be it a simple campaign or a lengthy or complex one. You can formulate them using the simple drag and drop UI very quickly. You now do not have to be a coding expert to use high-level campaigns. And these campaigns can also include multiple channels of external features like email, landing page, website, videos, and many more.
Using these multichannel campaigns, you can create the multichannel lead scores, and the real-time tracking facility can convert your lead to CRM in just a few minutes. Despite using various channels, and personalized campaigns, your dataset will be clean and easy to scan to analyze your campaign effectiveness quickly. Our new extensible framework can optimize the best time for your clients for you to get the most out of your resources and boost your revenue generation.
So, all your planning will be data-driven with our integrated lead management. You can quickly build a revenue cycle model using the RPM (Revenue Performance Management) feature of Eloqua.
How can Vegarise benefit you?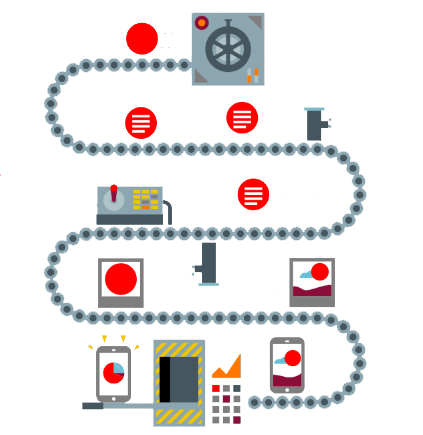 As a marketing automation consultancy, we, Team Vega, are dedicated to making maximum use of this tool and conjuring the best strategies for your particular business. Vegarise serves as an expert consultant to advise them about the whole process of the campaigns. We research the best marketing practices of your domains, study the rivals of your domain and find out the business model most effective in your case.
Final words
In this digital era, Eloqua will bring the customers closer to the marketers than anyone could have imagined before and is perfect for small to medium-sized companies to implement a basic but fast marketing strategy to skyrocket the lead scores. With the expertise of Vegaraise, the integrated real-time database generated from Eloqua serves as the USP to generate modified and more effective B2B and B2C campaigns especially customized for you.